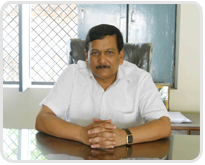 Thank you for your interest in J.B. Mahajan Degree College
The first decade of the new century is expected to unveil greater opportunities for trained professionals. How well one can take advantage of these opportunities depends a lot on where one is trained and what one has learnt. The close links of the college with the industry, reputed academic centers and research organizations gives it an insight into what is expected in the coming years and makes its personel's constantly strive for the needful changes and renewing of the curricula from time to time and adopt realistic, innovative approaches in teaching that is in tune with the trends, needs and demands of the educational and industrial sector.
Since its very inception In selecting one of the programmes of this college, you have taken the first important step on the road to a rewarding career in this new age. I look forward to having you as a J.B. Mahajan Degree college student and wish you every success in your studies and in your career.